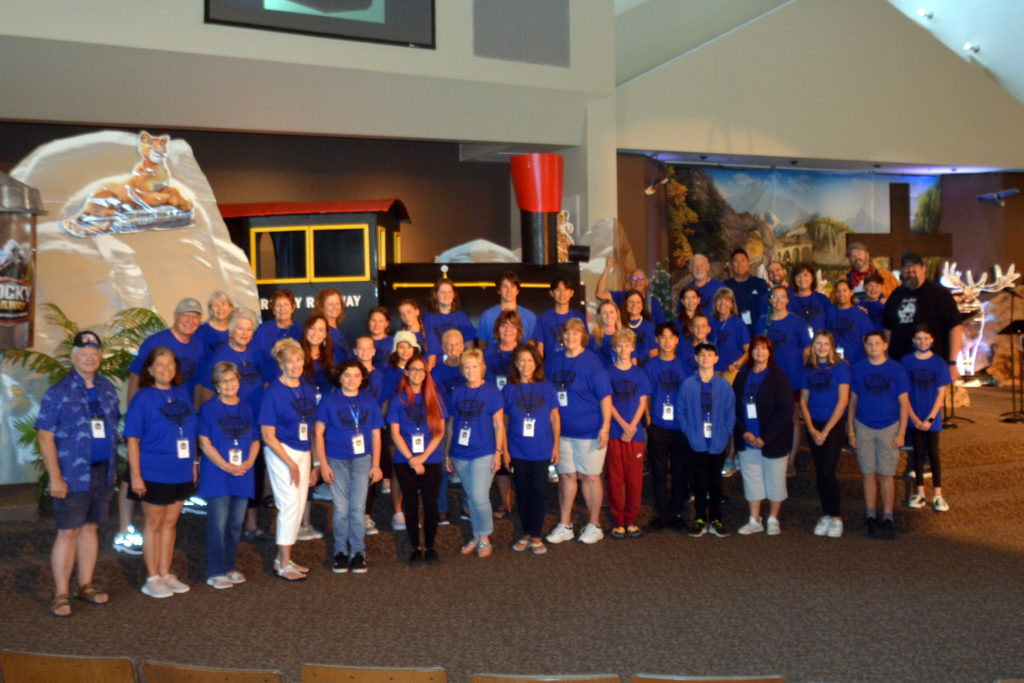 This is VBS…worshipping, serving, praying, caring, learning, friendship, sharing, mission, and teamwork. Behind all the big, beautiful props and decorations was a week of seeing God through the adult & youth volunteers and the children. I am blessed and honored to be a part of this amazing ministry. Over 80 volunteers worked in the months leading up to/during VBS to make this happen for the children. We had over 60 children registered.
We collected enough money to buy over 190 pairs of shoes for the children of Mubaku School in Uganda. It wasn't just about collecting money, though. The children were immersed in the lives and culture of the children of this village and their school on a daily basis. Videos of the Mubaku children & teachers singing and talking directly to our MPC VBS children was very impactful to their understanding of the need. One MPC boy decided to make a yearbook of sorts for Mubaku School and have our VBS children each sign their scratch-off train papers with their names..to be mailed to the school. This is God working on hearts. To learn more about Mubaku School and how you can help sponsor a child, go to mubakuschool.org and Mubaku Educational Foundation.
A LONG LIST OF PEOPLE TO THANK!
MAIN WEEK-OF CONTACTS: Julie Cast, Danielle Fair
TECH BOOTH: Sean Meade, Brian Gee
NURSERY: Joan Gustafson, Caron Campbell, Whitney Ordelheide
GROUPS/CREWS: (1) Jane May-Ahearn, Lauren Ahearn (Youth-7th), Jayden Campbell (Youth-6th), (2) Robin Anderson, Braden Tucker (Youth-6th), Cassandra Diaz (Youth-6th), (3) Brenda Kermode, Mia Sullivan (Youth-HS), Olivia Meade (Youth-8th), (4) Nancy Sampson, Kailey Brossard (Youth), Abigail May (Youth-HS)
Owen Sullivan (Youth-7th), (5) Keri Halloran, Payton Sherrod (Youth-6th), Makenzie Judd (Youth-6), (6) Jamie Absten, Kayla Tapking, Madeline May (Youth-HS), River McMorrow (Youth-HS), (7) Linda Keene
Braden Birkelo (Youth-HS), Noah Garcia (Youth-HS)
NURSE: Jane May-Ahearn
GAMES: Doug Fair-leader, Chris Birkelo, Alec Cast, Luke Wutkee (Youth-7th), KC Barber (Youth-HS)
MUBAKU SCHOOL MISSION: Gayle Hughes-leader, Michael Hughes-leader, Sue Reynolds, Chris Jiron,
Nathan Garcia (Youth-HS), Oliver Gonzalez (Youth-HS)
IMAGINATION STATION: Kelly Ghaffary-leader, Donald Reese-leader, Jen Barber, Jan Jue
BIBLE ADVENTURES: Karen Konjoyan-leader, Rachel Blaine-leader, Trent Reese (Youth-7), Susan Gobble, Lisa Andresen, Kim Yancey
SNACKS: Carol Wilkinson-leader, Gayle Harris, Lisa Quartararo, Kathee Ridenour, Patty Salcedo, Luis Salcedo, Kathy Ekker

MUSIC: Michael Hughes-Leader, Chris Birkelo-Leader, Aubrey Ghaffary-Youth Leader, Sierra Armstrong-Youth Leader, Kevin Blaine
PHOTOGRAPHERS: Dave Wilkinson (photo booth & general), Gary Belie (Spotlight VBS), Steven Ibrahim (Spotlight VBS help)(Yth-7th)
REGISTRATION TABLES: Bonnie Boe, Lisa Andresen, Hope Esposito, Maureen Birkelo, Sara Judd-T-shirt "TICKET" Booth, Amanda Sherrod-WALK INS, Genesee Paine-WALK INS
CHECK-IN/-OUT RUNNERS: Danielle Fair, Jen Barber, Maureen Birkelo
OPEN/CLOSE: Keenan Barber-Leader, Donald Reese-played Cam, Trent Reese-played Ananais, Rachel Blaine-played a gold-panner
PROPS: Waterfall and extra rocks/mountains made by Sierra Armstrong and Aubrey Ghaffary. Temple Gates for Bible Adventures made by Tom Piehn.
MANY PEOPLE CAME IN THE WEEKS BEFORE VBS TO PREPARE MATERIALS, CRAFTS AND TO DECORATE THE ROOMS AND SANCTUARY–THANK YOU!!!
Companies that contributed to our program:
Dole Foods provided fruit cups and pineapple.
Blue Sky Balloonz provided the amazing balloon tunnel, registration table balloons and other details in the waterfall and the train.
Tractor Supply provided many used supplies that helped with set building.
Cornerstone Church provided props and many supplies.
The props and supplies are being passed along to another church. God is good!!
Remember to F.R.O.G. (Fully Rely On God).
To learn more and find out how you can help with our 2023 VBS, please contact Kami Fair, Children's Ministry Director.