Alex Nester is a singer, songwriter born and raised right here in Ventura County. She has been singing professionally since she was 9 years-old and has shared the stage with artists such as Carlos Santana, Stevie Wonder, and Earth Wind & Fire. She is currently finishing up her third full- length studio album due out early next year.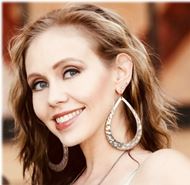 Alex was diagnosed with cancer when she was just 16 years-old and is extremely proud to be a survivor for over 19 years. She is the president of the Marcelle Erian Cancer Foundation, a local non-profit dedicated to helping cancer patients and their families in the surrounding areas. Alex believes that God put her on this earth to make music, and then He kept her on this earth to continue that journey. She has tremendous love for the Lord and Savior who gave her a voice, music, and brought her through the cancer battle safely.
Alex is thrilled to be a part of the Moorpark Presbyterian family as Worship Leader and is exceptionally grateful for the opportunity to praise our Creator with you every week!